Teething jewelry that's always in easy reach, keeping Baby happy and Mom looking great!
---
I ordered the pink necklace and I only wish I had bought one SOONER. My 8 month old teething boy loves it. He is a happy boy when he can chew on it and soothe his little gums. Definitely recommend and the seller was excellent in shipping and communication. Thank you! :) Tessa B., South Dakota
This is fabulous, being fully beaded my 8 month old can safely put it in his mouth and chew. He loves holding on to it around my neck when I carry him. Love this teething necklace!! It looks just like the big brands, but half the price! Shipping was super fast! My baby and I both love this necklace... Now I can look cute and he can always have something to chew on! Thanks so much, will be ordering again!! Trisha M., California
Fantastic value! Most importantly, my son loves this necklace. There are at least 3 of my family members that will probably buy one as well, if they haven't already, using a link that I provided to this shop. I think I may even buy a second one! Thank you! Diane R., California
---
Great for Teething Babies
Babies love to chew, tug, grab and bite and that's exactly what Bitey Beads are designed for. No more picking your teether up off the dirty ground and no more broken jewelry to have repaired. Save your real jewelry for date night and wear Bitey Beads during the day!
Great for Breastfeeding Moms
Wear Bitey Beads while breastfeeding to give your baby something to keep their hands occupied – other than you! This can help keep babies attention leading to more productive feedings.
Easy to Clean
Being a mom is hard enough – cleaning a teether shouldn't be. Bitey Beads are dishwasher-safe, just throw them in or wash by hand with soap & water. Simple.
Bitey Beads are Baby-Safe!
100% Food-grade silicone
No detachable parts
Breakaway clasp
BPA free
PVC free
Lead free
Phthalates free
Heavy Metals free
even the packaging is made from food-safe, biodegradable PET plastic
Even so…
Please do not leave them with your baby unsupervised. Bitey Beads are intended to be worn by adults only. Discard and replace them at the first sign of wear or damage to prevent the small beads from becoming a choking hazard.
---
Bitey Beads was started by a mom and her baby, for moms and babies everywhere.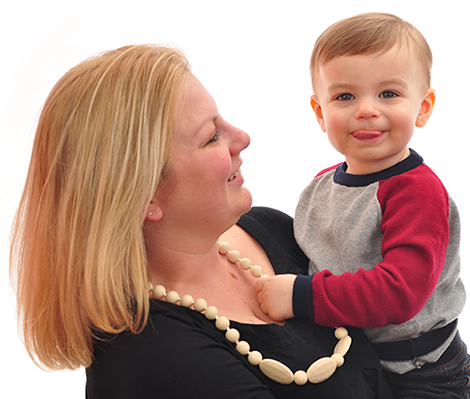 I'm so amazed at the positive reception I've received and am so happy to be able to provide such a great product to help mothers and babies get through such a challenging time. Teething is tough!
It's great that Bitey Beads can help ease the pain so moms and babies can enjoy these early years together.
---
Connect with Us!
Have questions? Feel free to e-mail us!
Send us photos of you and your baby enjoying Bitey Beads! We'll add them to our gallery!
---